Weekday Classes: Fire & Life Safety Director (FLSD), Fire & Non-Fire with Active Shooter
(F-89)
Course Description
NEW CLASS SCHEDULE;
PRESENTED IN SIX CLASSES OVER TWO WEEKS
This is the New York City Fire Department (FDNY) accredited course for Fire & Life Safety Directors (FLSD). The course provides the required 31-hours of instructions over 6 days.
The Fire Safety Directors, Emergency Action Plan Director and Active Shooter/Medical Emergency courses have been combined into one course made up into two components. This Fire & Life Safety Directors (FLSD) course is covered in two Components
(1) Fire Safety Components,
(2) Non-Fire Emergencies with Active Shooter/Medical Emergencies.Component
SIGN UP FOR THE COMPLETE COURSE HERE AND SAVE !!
This Fire & Life Safety Directors (FLSD) course is required for all hotels and office buildings.
Starting on 4/1/2019, the 4-hour ASMEP course is not offered separately, it must be combined with the 7-hour EAP course to become the 11-hour Non-Fire FLSD course.)
Pre-requisite for FLSD F-89: 1.5 years of Fire Safety related experience, including 6 months of experience in one property.
Click link to review new qualifications criteria: 
https://nyfiresafe.com/fire-and-life-safety-director-qualifications/
FDNY requires that you attend all classes and receive a mark of 70% on NYFSI's final exam for this course. Those passing with a mark of 70% or higher are granted a diploma from NYFSI, which must be presented at the Fire Department.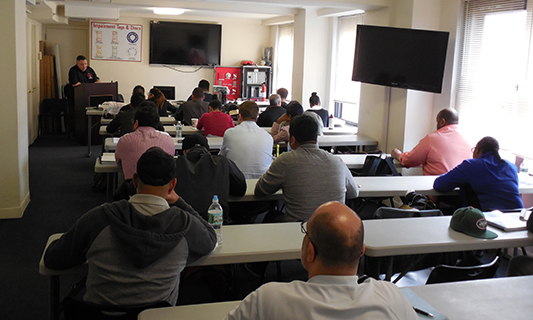 Additional Info
A Fire Life Safety Director (FLSD) is required in any commercial building or occupancy that obtained FDNY approval of the installation of a fire alarm system with two-way voice communication, and is required to provide a FLSD or other specified emergency preparedness staffing during regular business hours required by Chapter 4 of the Fire Code.
Any building classified as Group E (1968 Code) or Group B (2008 Code) by the NYC Department of Buildings, which has an occupancy of 100 people or more must have a Fire & Life Safety Director on site during regular business hours. This includes office buildings, public or civil services buildings, and hotels. The Fire & Life Safety Director must hold a valid Certificate of Fitness and is responsible for implementing a fire safety and evacuation plan, training fire safety personnel (FSP), and other duties related to fire safety and evacuation plans.
This Certificate of Fitness is valid only at a specific location and for the specific person to whom it is issued.
Where
All classes are taught at NY Fire Safety Institute, located in The New Yorker, A Wyndham Hotel, Suite 618 (8th Avenue at West 34th Street). See below for directions.