On-Line Preparation for T-93 Certificate of Fitness Temporary Supervision of Storage, Handling, and Use of Propane Containers and the Portable Space Heaters in Outdoor Dining
(T-93)
Course Description
T-93 Certificate of Fitness holder is responsible for the onsite supervision of connecting and disconnecting the propane containers from the heaters. The handling and use of portable space heaters shall be under the personal supervision of a T-93 Certificate of Fitness holder. Personal supervision means the Certificate of Fitness holder must be personally present in the restaurant to supervise the handling (moving) and the use of the heaters.
The T-93 Certificate of Fitness holder is also authorized to supervise the storage of propane container if the restaurant has the FDNY permit for storing LPG containers.
As set forth in the Mayor's Emergency Executive Order 153, the FDNY authorizes the limited use of propane for comfort heating of restaurant patrons during the COVID-19 state of emergency. The restaurant owner must ensure that at least one employee of the restaurant obtain the T-93 Certificate of Fitness within three weeks of submitting the attestation (the FDNY permit application).
Links:
Restaurant Rules and Regulation Help:  https://www1.nyc.gov/site/fdny/business/support/restaurant-help.page
Attestation for Expedited Use of LPG-Fueled Portable Space Heaters:
https://www1.nyc.gov/assets/fdny/downloads/pdf/business/attestation-propane-heaters.pdf
Attestation Form:  https://www1.nyc.gov/assets/fdny/downloads/pdf/business/attestation-fillAttestation Form:able.pdf
Required Criteria for online training:
This course content will be virtual face to face technology learning platform. "Zoom" platform.
The platform utilizes interactive conferencing.
The platform allows the instructor to see and talk with all the students in real time inside the virtual face to face classroom the whole time the class is in session.
The online class session will be live with the instructor present at all times.
The live instructor will be visible on the student's computer screen at all times. The students computer also screen will present the PowerPoint training the instructor is presenting.
The instructor should be able to see each student in the classroom session.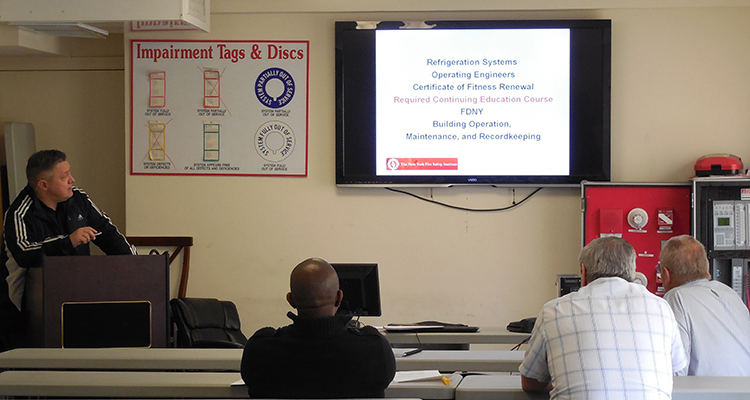 Additional Info
GENERAL PROCEDURE FOR ONLINE LEARNING:
1. NYFSI will provide all the students with classroom manual for review prior to the scheduled online class session. This manual will be distributed to the student via email to the email address provided.  The FLSD course must be paid for before the FLSD Manual is electronically send.
2. This on-line platform will have the ability for group chat during the online session.
3. The graduation test must be conducted in person at the school under the supervision of an proctor or instructor
4. Students will required to have a Computer, Laptop or I-Pad with a camera
Where
All classes are taught On-Line.