NY State Security Supervisor Training
( Licensed and Registered by the New York State Division of Criminal Justice)
Course Description
To all our client and students that support NY Fire Consultants and the NY Fire Safety Institute. We want to make you aware of the precautions we are taking to limit the spread of the Coronavirus 19. We have had our maintenance staff bleach all the classroom tables, chairs and bathrooms. We are using a Clorox and water solution. We have stocked our bathrooms with antibacterial hand soap and Purell hand sanitizer. We have always done this, but we have increased the frequency of the cleanings. All students are urged to use common sense in that if you feel ill please don't come to the class. Just notify us and we will reschedule your training program to a time when you are feeling better. We have urged our instructors to be vigilant in the observation to any excessive coughing or sneezing. If that is detected, we will ask the student to leave the class and reschedule their training. We are taking these precautions to protect all involved. Please pay attention to your own health and what your body is telling you and again If your sick stay home.
The Management Staff of NY Fire Consultants and NY Fire Safety Institute.

Becoming a security supervisor, it is recommended that security officers acquire additional skills. This supervisory course is designed for you to learn more about your role as a security shift supervisor. Some of the topics you will learn includes your role as a leader & educator. You will gain knowledge on how to interact with law enforcement, media, culturally diverse & religious groups, management & clients. There's a difference in someone being a supervisor and someone in a supervisory position. You will also learn how the respond to alarms, bomb threat, evacuation procedures, natural disasters, crime in progress, flash mob, time & people management and so much more. Report writing and communication is key in becoming a supervisor. Come join this elite group of supervisors in NYS & enhance your resume.
HOMELAND SECURITY, 
ANTI TERRORISM,
ACTIVE SHOOTER &
LOSS PREVENTION 
For additional information regarding class schedule please call 516 444-9686
Ic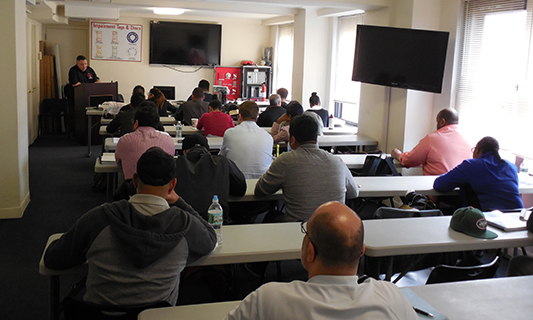 Where
All classes are taught at The NY Fire Safety Institute, in Suite 618, Wyndham New Yorker Hotel, Suite 618 (8th Avenue at West 34th Street). See below for directions.