NY State Security Officers Training (8-hour Pre-Assignment and the 16 Hour On-the Job Training) (Sign up for Both Classes for a Discount)
(Licensed and Registered by the New York State Division of Criminal Justice)
Course Description
Become a Professional and Trusted Security Guard in New York
This is the 8 hour Pre-Assignment Class and the 16 hour On-the Job Training. Take both and save money.
Discounted price when registering together for 8-hour Pre-Assignment and the 16 Hour On-the Job Training 
  Security guard initial training requirements: 
8 Hour Pre-Assignment Training– A general introductory course. You must complete this course and submit a copy of the certificate issued to you with your security guard application.  
 
16 Hour On-The-Job Training (OJT) - A course relevant to the duties of guards, requirements of the work site, and the needs of the employer. You must complete this training within 90 days of employment as a security guard. 
For additional information regarding class schedule please call 516 444-9686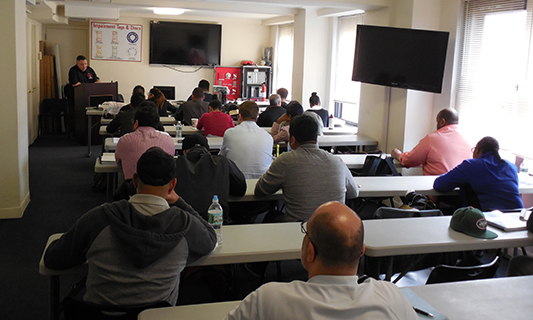 Where
All classes are taught at The NY Fire Safety Institute, in Suite 618, Wyndham New Yorker Hotel, Suite 618 (8th Avenue at West 34th Street). See below for directions.