Fire Safety Director
Course Description
FIRE SAFETY DIRECTORS
The December afternoon FSD Class is Cancelled!!
This is the New York City Fire Department (FDNY) accredited course for Fire Safety Directors (FSD). The course provides 20-hours of instruction across three weeks for weekday sessions, or four weeks for Saturday sessions.
Important: New 4-hour "Active Shooter & Medical Emergency Preparedness (ASMEP) Training Course" is FDNY REQUIRED.  As per the FDNY, candidates who successfully completed the FSD Course WILL NOT be permitted to take their FSD Computer Based Test (CBT) at FDNY Headquarters without showing proof of successfully completing the ASMEP Course
FDNY requires that you attend all classes and receive a mark of 70% on NYFSI's final exam for this course. Those passing with a mark of 70% or higher are granted a diploma from NYFSI, which must be presented at the Fire Department.
Note:  Effective December 1, 2016 all FSD candidates taking their test at the Fire Department must bring proof that they passed the school FSD course and the new Active Shooter and Medical Emergency Preparedness course.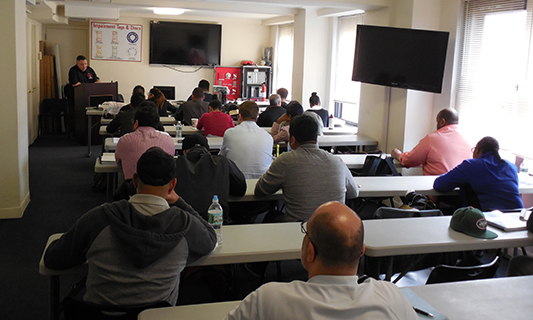 About the FDNY Certificate of Fitness
A Fire Safety Director (FSD) is required in any commercial building or occupancy that obtained FDNY approval of the installation of a fire alarm system with two-way voice communication, and is required to provide a Fire Safety Director or other specified emergency preparedness staffing during regular business hours required by Chapter 4 of the Fire Code.
Any building classified as Group E (1968 Code) or Group B (2008 Code) by the NYC Department of Buildings, which has an occupancy of 100 people or more must have a Fire Safety Director on site during regular business hours. This includes office buildings, public or civil services buildings, and hotels. The Fire Safety Director must hold a valid Certificate of Fitness and is responsible for implementing a fire safety and evacuation plan, training fire safety personnel (FSP), and other duties related to fire safety and evacuation plans.
This Certificate of Fitness is valid only at a specific location and for the specific person to whom it is issued.
Where
All classes are taught at the NY Fire Safety Institute, in Suite 1130 Wyndham New Yorker Hotel, Suite 1130 (8th Avenue at West 34th Street). See below for directions.