Digital Fire Extinguisher Training
Course Description
Learn how to extinguish a small fire without leaving the office – cleanly and safely.
OSHA requires if you have portable fire extinguishers in your work place and employees are expected to use them, then they must receive annual hands-on fire extinguisher training.
At the NY Fire Safety Institute, we use the state-of-the-art BullsEyeTM Laser-Driven Fire Extinguisher Training System which is a simulator that provides realistic hands-on extinguisher training using advanced laser technology. The LED driven digital flames senses where the trainee sweeps the BullsEye Extinguisher and automatically varies the digital flames response.
This means we can come to your office to train groups of employees on how to safely and effectively operate a fire extinguisher in their actual work environment – at their desk, a supply room, or the break-room and kitchen – without the mess and risks associated with other training methods.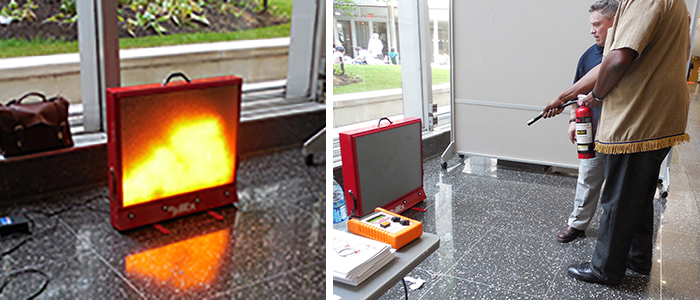 How It Works. See it in action.
Our instructors will come to your place of business and provide an overview of how and when to attempt using the fire extinguisher versus when to evacuate, and how to use a fire extinguisher safely and effectively. Why we use a training simulator:
Our revolutionary digital extinguisher training simulator uses advanced sensor technology detects whereby the user aims and sweeps the laser extinguisher and automatically varies the LED driven digital flames in response. The electronic control system responds to the trainees' actions, putting the fire out only when the extinguisher is used correctly. This real-time feedback enables our instructors to instantly correct the trainees and ensure they're prepared in case of a real fire emergency.
The laser-driven extinguisher uses a conical laser to replicate extinguisher discharge, enabling your trainees to learn how to effectively use a fire extinguisher without the cost and clean-up associated with other methods such as dry-chemicals or CO2 extinguishers. And it's environmentally friendly.
Safe

The training simulator relies on LED driven digital flames and a laser extinguisher, eliminating any hazards associated with traditional extinguisher training.
Effective

The combination of our instructors and the training simulator provides a realistic and engaging training experience.
Advantages

Makes training to OSHA requirements safe and easy.
Dozens of trainees can be trained in a single day without having to recharge your fire extinguishers.
Allows training to take place entirely indoors, in the actual work environment.
Has the ability to grade trainees making it easy to monitor improvement and proficiency.
Easily export training records for sharing and creating certificates of completion.
Where
All digital fire extinguisher training will be conducted onsite at your office or other location. Please contact us for more details.