Construction Site Fire Safety Manager
(S-56)
Course Description
This is the New York City Fire Department (FDNY) certified course for the Construction Site Fire Safety Manager. It consists of two 5-hour classes.
FDNY requires that you attend all classes and receive a mark of 70% on NYFSI's final exam for this course. Those passing with a mark of 70% or higher are granted a diploma from NYFSI, which must be presented at the Fire Department.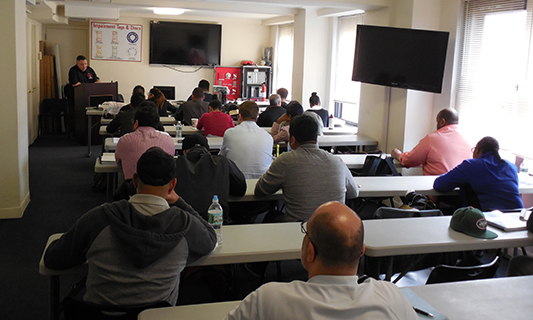 Additional Info
The S-56 Certificate of Fitness is required where a Site Safety Manager or Site Safety Coordinator is required by the Building Code for a construction site. The Construction Site Fire Safety Manager (CSFSM) shall conduct an inspection of the construction site and all fire safety measures on at least a daily basis, and maintain a record when construction, demolition and alteration work is being conducted.
Where
All classes are taught at The NY Fire Safety Institute, in Suite 618, Wyndham New Yorker Hotel, Suite 618 (8th Avenue at West 34th Street). See below for directions.